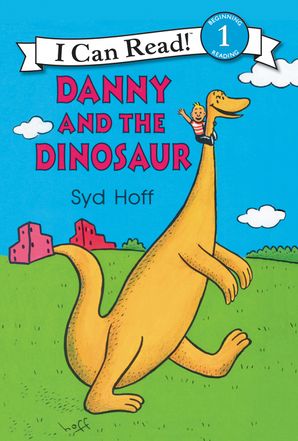 Read an excerpt
Danny and the Dinosaur
By Syd Hoff, Illustrated by Syd Hoff
Description
Danny loves dinosaurs! When he sees one at the museum and says, "It would be nice to play with a dinosaur," a voice answers, "And I think it would be nice to play with you." So begins Danny and the Dinosaur's wonderful adventures together. For Danny and his prehistoric playmate, even the most everyday activities become extraordinary, like finding a big-enough place to hide a dinosaur in a game of hide-and-seek. Kids will delight in Syd Hoff's charming, comical illustrations as they read about how Danny teaches a very old dinosaur some new tricks.
Originally published over 50 years ago, this beloved classic is a Level 1 I Can Read that is perfect for the beginning reader learning to sound out words and sentences.
Supports the Common Core Learning Standards
Contributors
Syd Hoff
Syd Hoff was a much-loved and much-read author and illustrator of numerous books for children, most notably the Danny and the Dinosaur titles and Sammy the Seal. Born and raised in New York City, he studied at the National Academy of Design and sold his first cartoon to The New Yorker when he was eighteen. His cartoons became regular features in many magazines and newspapers. Sid Hoff was born in 1912 and died in 2004, at ninety-one. His books continue to delight readers worldwide.
Illustrated by Syd Hoff
Details
Imprint: HarperCollins
Format: Hardcover
On Sale: 08/06/1958
ISBN: 9780060224653
ISBN10: 0060224657
Pages: 64
Trimsize: 9.000 x 6.000 in
Subcategory:
JUVENILE FICTION / Readers / Beginner
JUVENILE FICTION / Animals / Dinosaurs & Prehistoric Creatures
JUVENILE FICTION / Social Issues / Friendship
More Great Danny and the Dinosaur I CAN READ! BOOKS
More Great I Can Read Level 1 BOOKS