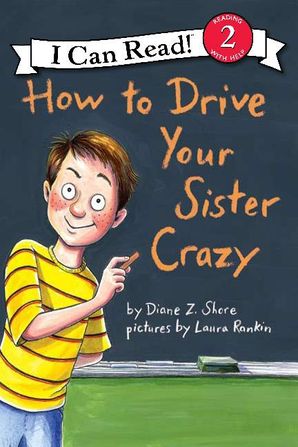 How to Drive Your Sister Crazy
By Diane Z. Shore, Illustrated by Laura Rankin
Other Formats
Description
Do you have a big sister?
Do you know how to drive her crazy?
With a rubber snake, some bubble gum, and a really great hiding space, Bradley Harris Pinkerton shows you just how easy it is!
Contributors
Diane Z. Shore
Diane Z. Shore and Jessica Alexander have collaborated on several children's books, including This Is the Dream and This Is the Game. One thing they have learned while cowriting stories is that when people work together, great things can happen. Both authors live with their families in metro Atlanta, Georgia.
Illustrated by Laura Rankin
Details
Imprint: HarperCollins
Format: Paperback
On Sale: 11/06/2012
ISBN: 9780060527648
ISBN10: 0060527641
Pages: 48
Trimsize: 9.000 x 6.000 in
Subcategory:
JUVENILE FICTION / Readers / Beginner
JUVENILE FICTION / Family / Siblings
JUVENILE FICTION / Humorous Stories
More Great I CAN READ! BOOKS
More Great I Can Read Level 2 BOOKS