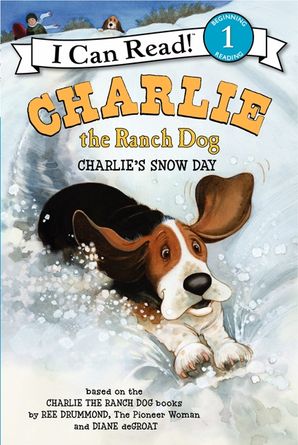 Read an excerpt
Charlie the Ranch Dog: Charlie's Snow Day
By Ree Drummond, Illustrated by Diane deGroat
Other Formats
Description
Ree Drummond (also known as The Pioneer Woman) and Charlie the Ranch Dog return in this snow-filled I Can Read title.
When Charlie wakes up to a world covered in snow, he can't wait to go outside. He even takes a break from patrol duty to go sledding with his friends Walter and Sister. But when Walter goes missing, it's up to Charlie to take control of the situation and bring his buddy back.
Charlie the Ranch Dog stars in bestselling author Ree Drummond's I Can Read title, just right for reading on your own snowy day! Charlie's Snow Day is a Level One I Can Read book, which means it's perfect for children learning to sound out words and sentences.
Contributors
Ree Drummond
Ree Drummond is the #1 New York Times bestselling author of The Pioneer Woman Cooks, The Pioneer Woman Cooks: Food from My Frontier,  and The Pioneer Woman Cooks: A Year of Holidays. Ree's beloved website, The Pioneer Woman, was founded in 2006 and showcases her cooking, photography, and anecdotes about country life. Her cooking show, The Pioneer Woman, premiered on Food Network in 2011. Ree loves Ethel Merman songs, Lucille Ball, and The Godfather. She lives on a working cattle ranch in Oklahoma with her husband and four children.
Illustrated by Diane deGroat
Details
Imprint: HarperCollins
Format: Paperback
On Sale: 10/08/2013
ISBN: 9780062219114
ISBN10: 0062219111
Pages: 32
Trimsize: 9.000 x 6.000 in
Subcategory:
JUVENILE FICTION / Readers / Beginner
JUVENILE FICTION / Animals / Dogs
JUVENILE FICTION / Animals / Farm Animals
More Great Charlie the Ranch Dog I CAN READ! BOOKS
More Great I Can Read Level 1 BOOKS