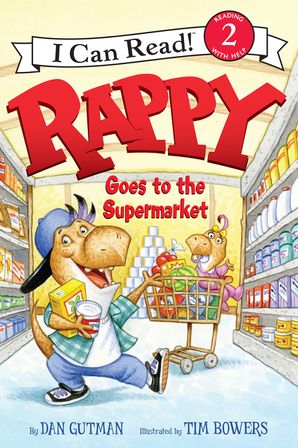 Read an excerpt
Rappy Goes to the Supermarket
By Dan Gutman, Illustrated by Tim Bowers
Description
Rappy the Raptor is going to the grocery store. What a bore! But Rappy finds himself actually having fun…that is, until he tips over a HUGE display of toilet paper rolls. The manager is angry, but the quick-thinking Rappy uses his rhyming skills to save the day!
Beginning readers will enjoy rapping through the supermarket aisles with everyone's favorite raptor. Rappy knows how to make even a trip to the supermarket fun! This rhyming Level Two I Can Read is perfect for beginning and developing readers.
Where are you taking me?
I really want to know.
Why are you making me?
I don't want to go!
Contributors
Dan Gutman
Dan Gutman is the author of many books for children, including the My Weird School series, the Flashback Four series, and the New York Times bestselling Genius Files series. Dan has received nineteen state book awards and ninety-two nominations. Dan lives in New York with his wife, Nina. You can visit him online at www.dangutman.com.
Illustrated by Tim Bowers
Details
Imprint: HarperCollins
Format: Paperback
On Sale: 01/03/2017
ISBN: 9780062252623
ISBN10: 0062252623
Pages: 32
Trimsize: 9.000 x 6.000 in
Subcategory:
JUVENILE FICTION / Readers / Beginner
JUVENILE FICTION / Animals / Dinosaurs & Prehistoric Creatures
JUVENILE FICTION / Performing Arts / Music
More Great I CAN READ! BOOKS
More Great I Can Read Level 2 BOOKS