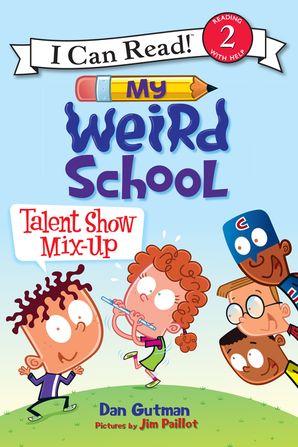 Read an excerpt
My Weird School: Talent Show Mix-Up
By Dan Gutman, Illustrated by Jim Paillot
Other Formats
Description
A new series of Level Two I Can Read titles based on Dan Gutman's My Weird School series, which has sold more than 12 million books!
Mr. Cooper's class is having a talent show. But A.J. has a problem—he doesn't have a talent! What will he do when the big day comes? Join A.J. and the gang from Ella Mentry School as they show young readers why they attend the weirdest—and most fun!—school around.
My Weird School: Talent Show Mix-Up is a Level Two I Can Read book, geared for kids who read on their own but still need a little help.
Contributors
Dan Gutman
Dan Gutman is the author of many books for children, including the My Weird School series, the Flashback Four series, and the New York Times bestselling Genius Files series. Dan has received nineteen state book awards and ninety-two nominations. Dan lives in New York with his wife, Nina. You can visit him online at www.dangutman.com.
Illustrated by Jim Paillot
Details
Imprint: HarperCollins
Format: Paperback
On Sale: 09/06/2016
ISBN: 9780062367433
ISBN10: 0062367439
Pages: 32
Trimsize: 9.000 x 6.000 in
Subcategory:
JUVENILE FICTION / Readers / Beginner
JUVENILE FICTION / Humorous Stories
JUVENILE FICTION / School & Education
More Great I CAN READ! BOOKS
More Great I Can Read Level 2 BOOKS