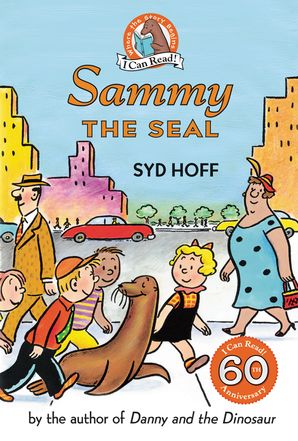 Read an excerpt
Sammy the Seal
By Syd Hoff, Illustrated by Syd Hoff
Description
Sammy, the adventurous seal, leaves the zoo for the day and ventures into the big, busy city. Along the way he finds a school full of kids and new things to do—and he even learns to read! This I Can Read is perfect for Level 1 beginning readers.
Sammy the Seal by Syd Hoff, author of Danny and the Dinosaur, is a special paper-over-board commemorative edition of celebrating the 60th anniversary of I Can Read books for beginning readers. Eight bonus pages recount I Can Read's history, including a time line, never-before-seen sketches, and origin stories of beloved I Can Read characters. This beautiful edition is perfect for gift-giving.
Contributors
Syd Hoff
Syd Hoff was a much-loved and much-read author and illustrator of numerous books for children, most notably the Danny and the Dinosaur titles and Sammy the Seal. Born and raised in New York City, he studied at the National Academy of Design and sold his first cartoon to The New Yorker when he was eighteen. His cartoons became regular features in many magazines and newspapers. Sid Hoff was born in 1912 and died in 2004, at ninety-one. His books continue to delight readers worldwide.
Illustrated by Syd Hoff
Details
Imprint: HarperCollins
Format: Hardcover
On Sale: 01/03/2017
ISBN: 9780062572745
ISBN10: 0062572741
Pages: 72
Trimsize: 9.000 x 6.000 in
Subcategory:
JUVENILE FICTION / Readers / Beginner
JUVENILE FICTION / Animals / Zoos
JUVENILE FICTION / Classics
More Great I CAN READ! BOOKS
More Great I Can Read Level 1 BOOKS