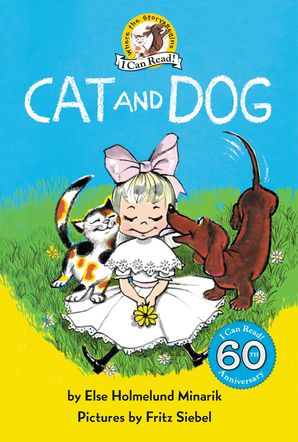 Read an excerpt
Cat and Dog
By Else Holmelund Minarik, Illustrated by Fritz Siebel
Other Formats
Description
"Woof, woof!" "Meow, meow!" Cat and dog, two playful pets, make the perfect zany match: whether the dog is taking a dip in the bird's bath, or the cat is snacking on bones, the result is hilarious! 
The simple text by the author of Little Bear, Else Holmelund Minarik, is perfect for My First level readers. This brand-new replica edition of a beloved 1960 title is being brought back from the vault in honor of the 60th anniversary of I Can Read books. This edition contains Fritz Siebel's classic artwork. The paper-over-board book features a foil cover and an anniversary burst, plus eight amazing pages of bonus material on the history of I Can Read, including never-before-seen sketches of beloved characters.
Contributors
Else Holmelund Minarik
Else Holmelund Minarik first introduced readers to her timeless character in the classic Little Bear. Publication of this book, with illustrations by Maurice Sendak, launched the I Can Read series. This much-loved author continues to write stories for children at her home in North Carolina.
Illustrated by Fritz Siebel
Details
Imprint: HarperCollins
Format: Hardcover
On Sale: 01/03/2017
ISBN: 9780062651747
ISBN10: 0062651749
Pages: 40
Trimsize: 9.000 x 6.000 in
Subcategory:
JUVENILE FICTION / Readers / Beginner
JUVENILE FICTION / Animals / Cats
JUVENILE FICTION / Animals / Dogs
More Great I CAN READ! BOOKS
More Great My First I Can Read BOOKS