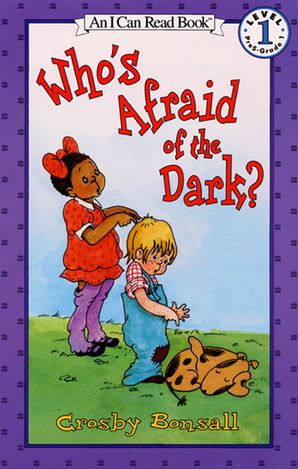 Read an excerpt
Who's Afraid of the Dark?
By Crosby Bonsall, Illustrated by Crosby Bonsall
Description
Who's afraid of the dark?
Every night at bedtime, Stella the dog shakes and shivers. She sees scary shapes and hears scary noises. Stella is afraid of the dark! At least that's what her owner says. But that might not be the whole story. . . .
Contributors
Crosby Bonsall
Crosby Bonsall's many beloved I Can Read Books include
The Day I Had to Play with My Sister; And I Mean It, Stanley; The Case of the Hungry Stranger;
and the My First I Can Read Book
Mine's the Best.
Illustrated by Crosby Bonsall
Details
Imprint: HarperCollins
Format: Paperback
On Sale: 01/22/2002
ISBN: 9780064440714
ISBN10: 0064440710
Pages: 32
Trimsize: 8.500 x 5.500 in
Subcategory:
JUVENILE FICTION / Readers / Beginner
JUVENILE FICTION / Animals / Dogs
JUVENILE FICTION / Bedtime & Dreams
More Great I CAN READ! BOOKS
More Great I Can Read Level 1 BOOKS