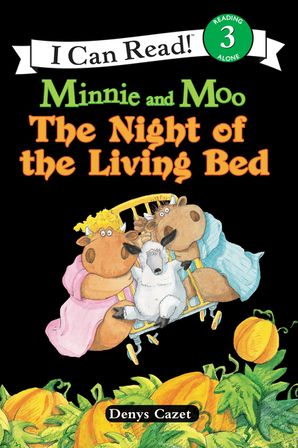 Read an excerpt
Minnie and Moo: The Night of the Living Bed
By Denys Cazet, Illustrated by Denys Cazet
Description
One of the scariest nights of the year turns into one of the funniest! After racing into town on a runaway bed, Minnie and Moo and their fellow farm buddies decide to join the Halloween festivities -- performing hilarious tricks to earn their treats!
Contributors
Denys Cazet
Denys Cazet is the author and illustrator of more than 25 picture books for children, including Never Spit On Your Shoes, winner of the California Young Readers Medal.
The books about Minnie and Moo are his first for beginning readers. He was inspired to tell stories about the silly cow best-friends when he passed a herd of cows in which all but two were facing the same way. The other two stood next to each other, facing in the opposite direction from the rest of the cows. He immediately dubbed the two nonconformists Minnie and Moo and imagined the adventures two cows who were loyal friends rather than followers of the herd. Mr. Cazet is currently writing I Can Read Books featuring Elvis the Rooster from the farm on which Minnie and Moo live.
Mr. Cazet was an elementary school teacher for 25 years, and has also been a school librarian and elementary school media specialist. He remains active in his local elementary school parent and advisory committees. A California native, Mr. Cazet lives with his family in the foothills of the Napa Valley.

Illustrated by Denys Cazet
Details
Imprint: HarperCollins
Format: Paperback
On Sale: 09/07/2004
ISBN: 9780060005054
ISBN10: 006000505X
Pages: 48
Trimsize: 9.000 x 6.000 in
Subcategory:
JUVENILE FICTION / Readers / Beginner
JUVENILE FICTION / Animals / Cows
JUVENILE FICTION / Humorous Stories
More Great I Can Read Level 3 BOOKS