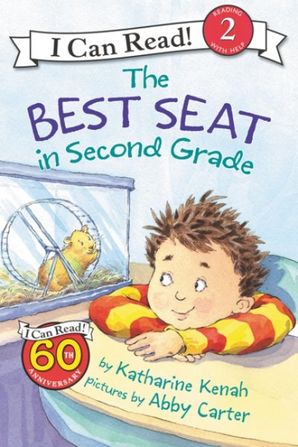 Read an excerpt
The Best Seat in Second Grade
By Katharine Kenah, Illustrated by Abby Carter
Other Formats
Description
Sam has the best seat in second grade—right next to George Washington, the class pet! 
Sam brings his hamster buddy on the class field trip to the science museum…but disaster strikes when George jumps from Sam's pocket into the museum's Hamster Habitat.
"Carter's expressive watercolor illustrations help bring the kids in room 75 and their furry pet to life," commented Kirkus.
The Best Seat in Second Grade is a Level Two I Can Read book, geared for kids who read on their own but still need a little help. Whether shared at home or in a classroom, the engaging stories, longer sentences, and language play of Level Two books are proven to help kids take their next steps toward reading success.
Contributors
Katharine Kenah
Katharine Kenah's Family Favorite is her grandmother's grandmother's brownies. The recipe for these delicious, fudgy-rich treats has been passed down for generations. Besides these delightful easy readers about Room 75, Katharine has written The Dream Shop, Eggs Over Easy, and many exciting nonfiction books for children. She lives with her family in Granville, Ohio.
Illustrated by Abby Carter
Details
Imprint: HarperCollins
Format: Paperback
On Sale: 08/01/2006
ISBN: 9780060007362
ISBN10: 0060007362
Pages: 48
Trimsize: 9.000 x 6.000 in
Subcategory:
JUVENILE FICTION / Readers / Beginner
JUVENILE FICTION / Animals / Mice, Hamsters, Guinea Pigs, etc.
JUVENILE FICTION / Animals / Pets
More Great I Can Read Level 2 BOOKS