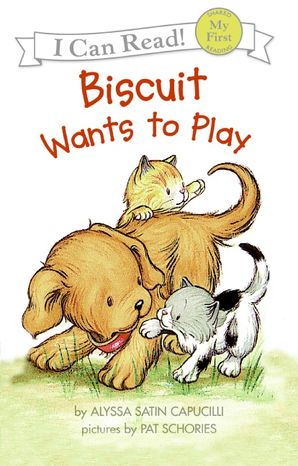 Read an excerpt
Biscuit Wants to Play
By Alyssa Satin Capucilli, Illustrated by Pat Schories
Description
Meow! Meow!
When Biscuit meets two little kittens, he wants to be friends. He wants to play ball and run around. But the kittens are having too much fun with their own games to play with him. Biscuit doesn't give up, though, and soon the kittens find out what a good friend he can be.
This playful story is just right for young readers who are busy making friends of their own.
Contributors
Alyssa Satin Capucilli
Alyssa Satin Capucilli is the author of the first story about Tulip and Rex, Tulip Loves Rex, as well as the bestselling Biscuit books and many other beloved children's books. She lives in a book-filled home in Hastings-on-Hudson, New York.
Illustrated by Pat Schories
Details
Imprint: HarperCollins
Format: Hardcover
On Sale: 01/09/2001
ISBN: 9780060280697
ISBN10: 0060280697
Pages: 32
Trimsize: 9.000 x 6.000 in
Subcategory:
JUVENILE FICTION / Readers / Beginner
JUVENILE FICTION / Animals / Dogs
JUVENILE FICTION / Social Issues / Friendship
More Great Biscuit I CAN READ! BOOKS
More Great My First I Can Read BOOKS