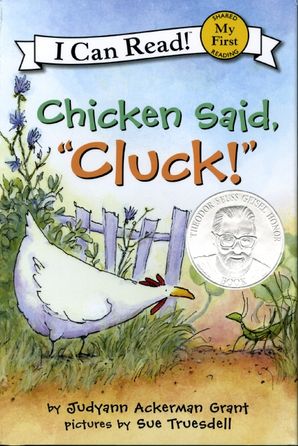 Read an excerpt
Chicken Said, "Cluck!"
By Judyann Ackerman Grant, Illustrated by Sue Truesdell
Other Formats
Description
An ALA Theodor Seuss Geisel Honor Book
This hilarious and award-winning beginning reader is filled with simple, repetitive sentences and illustrated with bright artwork depicting Chicken's funny expressions and poses. Chicken Said, "Cluck!" is sure to make beginning readers ask to enjoy this delightful reading experience again and again.
Earl and Pearl are growing pumpkins, and Chicken wants to help. Earl and Pearl dig the garden and plant the seeds, and water and weed...but Chicken only wants to scratch in the dirt. Earl and Pearl don't want Chicken around, so they shoo her away. But then one day grasshoppers come to the garden, and Chicken proves herself useful.
This My First I Can Read Book is perfect for shared reading with toddlers and very young children. Basic language, word repetition, and whimsical illustrations make this book just right for reading with emergent readers.
Contributors
Judyann Ackerman Grant
Judyann Ackerman Grant and her family have raised numerous chickens as well as assorted cats, dogs, rabbits, birds, and goldfish on their farm in upstate New York. Ms. Grant was inspired to write Chicken Said, "Cluck!" by watching chickens scratch in the new-turned garden every spring. This is her first book.
Illustrated by Sue Truesdell
Details
Imprint: HarperCollins
Format: Hardcover
On Sale: 10/14/2008
ISBN: 9780060287238
ISBN10: 0060287233
Pages: 32
Trimsize: 9.000 x 6.000 in
Subcategory:
JUVENILE FICTION / Readers / Beginner
JUVENILE FICTION / Animals / Farm Animals
JUVENILE FICTION / Nature & the Natural World / General
More Great My First I Can Read BOOKS