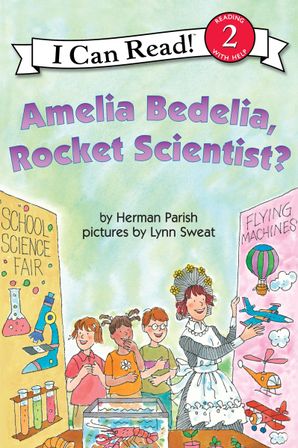 Read an excerpt
Amelia Bedelia, Rocket Scientist?
By Herman Parish, Illustrated by Lynn Sweat
Description
When Amelia Bedelia helps out at the school science fair, she finds an exploding volcano, some UFOs, and a mad scientist!
Contributors
Herman Parish
Herman Parish was in the fourth grade when his aunt, Peggy Parish, wrote the first book about Amelia Bedelia. The author lives in Princeton, New Jersey.
Illustrated by Lynn Sweat
Details
Publisher: Greenwillow Books
Imprint: Greenwillow Books
Format: Paperback
On Sale: 02/06/2007
ISBN: 9780060518899
ISBN10: 0060518898
Pages: 64
Trimsize: 9.000 x 6.000 in
Subcategory:
JUVENILE FICTION / Readers / Beginner
JUVENILE FICTION / Humorous Stories
JUVENILE FICTION / School & Education
More Great Amelia Bedelia I CAN READ! BOOKS
More Great I Can Read Level 2 BOOKS