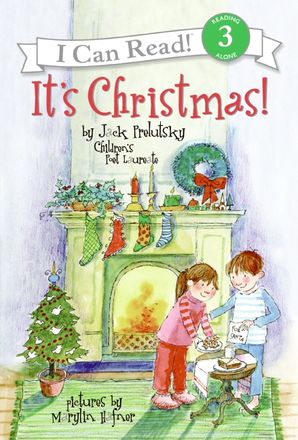 Read an excerpt
It's Christmas!
By Jack Prelutsky, Illustrated by Marylin Hafner
Other Formats
Description
Christmas is coming! And from choosing the perfect tree, to receiving a gift of underwear from a relative, to seeing Santas everywhere you look, these twelve easy-to-read poems treat readers to a funny and festive look at favorite holiday traditions.
This merry collection of Christmas verse by Children's Poet Laureate Jack Prelutsky and acclaimed illustrator Marylin Hafner is sure to put anyone in the holiday spirit!
Contributors
Jack Prelutsky
Jack Prelutsky is the best-selling author of more than fifty books of poetry, including The New Kid on the Block, illustrated by James Stevenson, and Stardines Swim High Across the Sky, illustrated by Carin Berger. Jack Prelutsky lives in Washington State.
Illustrated by Marylin Hafner
Details
Publisher: HarperCollins
Imprint: HarperCollins
Format: Hardcover
On Sale: 09/30/2008
ISBN: 9780060537067
ISBN10: 006053706X
Pages: 48
Trimsize: 9.000 x 6.000 in
Subcategory:
JUVENILE FICTION / Holidays & Celebrations / Christmas & Advent
JUVENILE FICTION / Readers / Beginner
More Great I Can Read Level 3 BOOKS