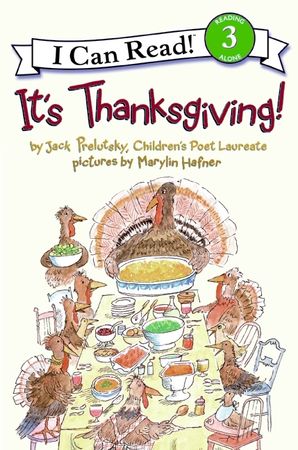 It's Thanksgiving!
By Jack Prelutsky, Illustrated by Marylin Hafner
Description
It's time for turkey! The parade is about to start. The pumpkin pie is in the oven. The whole family is gathered around the table. And everybody wants to pull the wishbone! From Children's Poet Laureate Jack Prelutsky comes a scrumptious helping of twelve Thanksgiving poems to enjoy every day of the year!
Contributors
Jack Prelutsky
Jack Prelutsky is the best-selling author of more than fifty books of poetry, including The New Kid on the Block, illustrated by James Stevenson, and Stardines Swim High Across the Sky, illustrated by Carin Berger. Jack Prelutsky lives in Washington State.
Illustrated by Marylin Hafner
Details
Imprint: HarperCollins
Format: Paperback
On Sale: 08/26/2008
ISBN: 9780060537111
ISBN10: 0060537116
Pages: 48
Trimsize: 9.000 x 6.000 in
Subcategory:
JUVENILE FICTION / Readers / Beginner
JUVENILE NONFICTION / Poetry / Humorous
JUVENILE FICTION / Holidays & Celebrations / Thanksgiving
More Great I Can Read Level 3 BOOKS