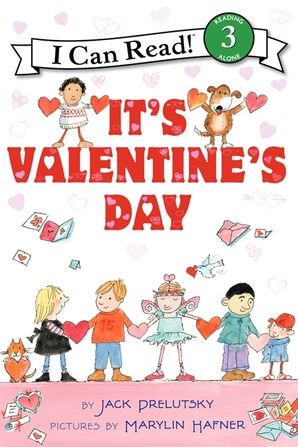 Read an excerpt
It's Valentine's Day
By Jack Prelutsky, Illustrated by Marylin Hafner
Description
These fourteen silly, sweet poems by nationally bestselling author Jack Prelutsky are perfect for Valentine's Day. This Level 4 I Can Read title is ideal for readers who are ready for wordplay, exciting themes, and fun vocabulary words!
Fourteen easy-to-read poems go straight to the heart—and the funny bone—of the fourteenth of February. Jack Prelutsky, the nation's first children's poet laureate and a popular and bestselling poet, does for Valentine's Day what he has already done for Christmas, Thanksgiving, and Halloween—and the results are delectable. Publishers Weekly said, "Cheers for Prelutsky, ingenious rhymester beloved by children who recognize themselves in collections like this." It's Valentine's Day! is illustrated in full color, and it is a perfect choice for independent readers as well as a perfect bridge to chapter books.
Contributors
Jack Prelutsky
Jack Prelutsky is the best-selling author of more than fifty books of poetry, including The New Kid on the Block, illustrated by James Stevenson, and Stardines Swim High Across the Sky, illustrated by Carin Berger. Jack Prelutsky lives in Washington State.
Illustrated by Marylin Hafner
Details
Imprint: Greenwillow Books
Format: Paperback
On Sale: 12/10/2013
ISBN: 9780060537142
ISBN10: 0060537140
Pages: 48
Trimsize: 9.000 x 6.000 in
Subcategory:
JUVENILE FICTION / Readers / Beginner
JUVENILE FICTION / Holidays & Celebrations / Valentine's Day
More Great I Can Read Level 3 BOOKS