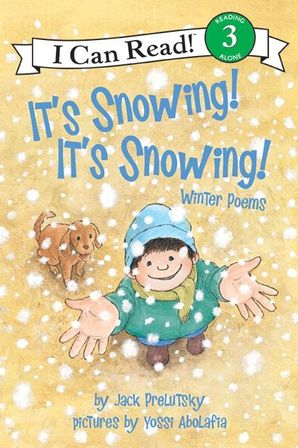 It's Snowing! It's Snowing!
By Jack Prelutsky, Illustrated by Yossi Abolafia
Description
From master of rhyme Jack Prelutsky comes a flurry of winter poetry just right to usher in the season of ice and snow!
Contributors
Jack Prelutsky
Jack Prelutsky is the best-selling author of more than fifty books of poetry, including The New Kid on the Block, illustrated by James Stevenson, and Stardines Swim High Across the Sky, illustrated by Carin Berger. Jack Prelutsky lives in Washington State.
Illustrated by Yossi Abolafia
Details
Imprint: HarperCollins
Format: Paperback
On Sale: 11/07/2006
ISBN: 9780060537173
ISBN10: 0060537175
Pages: 48
Trimsize: 9.000 x 6.000 in
Subcategory:
JUVENILE FICTION / Readers / Beginner
JUVENILE FICTION / Concepts / Seasons
More Great I Can Read Level 3 BOOKS