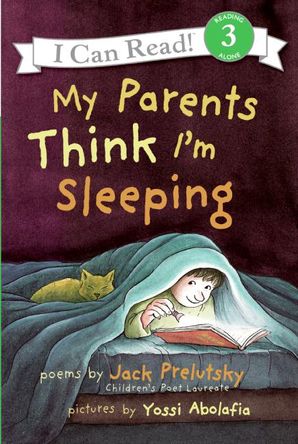 Read an excerpt
My Parents Think I'm Sleeping
By Jack Prelutsky, Illustrated by Yossi Abolafia
Description
From Children's Poet Laureate Jack Prelutsky and illustrator Yossi Abolafia, My Parents Think I'm Sleeping is the perfect book to get young readers excited about bedtime. This I Can Read book is an excellent choice to share during homeschooling, in particular for children ages 5 to 7 who are ready to read independently. It's a fun way to keep your child engaged and as a supplement for activity books for children.
This Level 3 I Can Read book is a funny collection of poems about a boy who should be sleeping, but manages to find more than just storybooks and his model rocket kit to keep him awake.
From reading under the covers to watching shadows dance on the wall, these fourteen funny and spooky nighttime poems show that a child's life begins at bedtime!
Contributors
Jack Prelutsky
Jack Prelutsky is the best-selling author of more than fifty books of poetry, including The New Kid on the Block, illustrated by James Stevenson, and Stardines Swim High Across the Sky, illustrated by Carin Berger. Jack Prelutsky lives in Washington State.
Illustrated by Yossi Abolafia
Details
Imprint: HarperCollins
Format: Paperback
On Sale: 01/08/2008
ISBN: 9780060537227
ISBN10: 0060537221
Pages: 48
Trimsize: 9.000 x 6.000 in
Subcategory:
JUVENILE FICTION / Readers / Beginner
JUVENILE FICTION / Bedtime & Dreams
More Great I Can Read Level 3 BOOKS