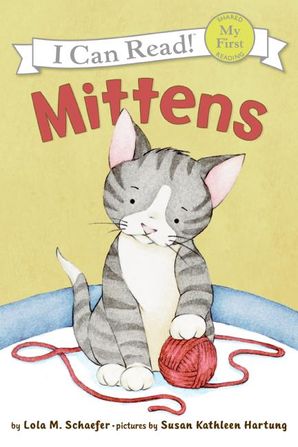 Read an excerpt
Mittens
By Lola M. Schaefer, Illustrated by Susan Kathleen Hartung
Other Formats
Description
Mittens is a small kitten in a big, new house. Everything seems loud and unfamiliar and scary. The little kitten wants a special place all his own. Can a new friend help him find one?
The satisfying story of an adorable kitten's search for security and his discovery of a new friend is perfect for children who, like Mittens, are ready to take their first steps on a new journey: reading.
Mittens is a My First I Can Read book, which means it's perfect for shared reading with a child. "The beautiful physical immediacy of the new pet story will draw emergent readers," commented Booklist.
Contributors
Lola M. Schaefer
Lola M. Schaefer is the author of several books for children, including An Island Grows; Pick, Pull, Snap! Where Once a Flower Bloomed, an NCTE Notable Children's Book in the Language Arts; and What's Up, What's Down? She lives with her husband, Ted, in the mountains of north Georgia, where she occasionally observes the back end of a black bear, coyote, or gray fox.
Illustrated by Susan Kathleen Hartung
Details
Imprint: HarperCollins
Format: Paperback
On Sale: 04/24/2007
ISBN: 9780060546618
ISBN10: 0060546611
Pages: 32
Trimsize: 9.000 x 6.000 in
Subcategory:
JUVENILE FICTION / Readers / Beginner
JUVENILE FICTION / Animals / Cats
JUVENILE FICTION / Social Issues / New Experience
More Great My First I Can Read BOOKS