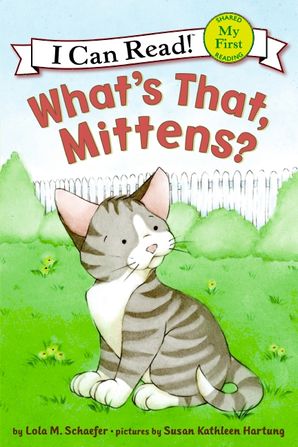 Read an excerpt
What's That, Mittens?
By Lola M. Schaefer, Illustrated by Susan Kathleen Hartung
Other Formats
Description
Mittens the kitten is looking for some fun, but he's all alone!
When Mittens hears a scratching noise behind the fence, he digs and digs until he is face to face, eye to eye, and nose to nose with the big dog who lives next door, Max. With fun read-aloud sounds, What's That, Mittens? is a fun introduction to reading for the youngest readers.
This My First I Can Read Book is perfect for shared reading with toddlers and very young children. Basic language, word repetition, and whimsical illustrations make this book just right for the emergent reader.
Contributors
Lola M. Schaefer
Lola M. Schaefer is the author of several books for children, including An Island Grows; Pick, Pull, Snap! Where Once a Flower Bloomed, an NCTE Notable Children's Book in the Language Arts; and What's Up, What's Down? She lives with her husband, Ted, in the mountains of north Georgia, where she occasionally observes the back end of a black bear, coyote, or gray fox.
Illustrated by Susan Kathleen Hartung
Details
Imprint: HarperCollins
Format: Paperback
On Sale: 05/26/2009
ISBN: 9780060546649
ISBN10: 0060546646
Pages: 32
Trimsize: 9.000 x 6.000 in
Subcategory:
JUVENILE FICTION / Readers / Beginner
JUVENILE FICTION / Animals / Cats
JUVENILE FICTION / Social Issues / Friendship
More Great My First I Can Read BOOKS