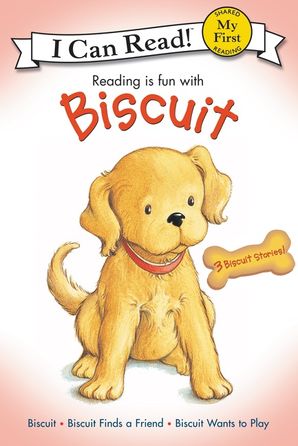 Biscuit's My First I Can Read Book Collection
By Alyssa Satin Capucilli, Illustrated by Pat Schories
Description
Read along with Biscuit!
Let Biscuit introduce your child to the joys of independent reading. The little puppy's gentle nature and playful ways have made I Can Read® Biscuit books favorites with over a million emergent readers. With three great titles in one handy package, this collection is perfect for the newest reader in your family!
Contributors
Alyssa Satin Capucilli
Alyssa Satin Capucilli is the author of the first story about Tulip and Rex, Tulip Loves Rex, as well as the bestselling Biscuit books and many other beloved children's books. She lives in a book-filled home in Hastings-on-Hudson, New York.
Illustrated by Pat Schories
Details
Imprint: HarperCollins
Format: Paperback
On Sale: 09/23/2003
ISBN: 9780060589332
ISBN10: 0060589337
Trimsize: 9.000 x 6.000 in
Subcategory:
JUVENILE FICTION / Readers / Beginner
JUVENILE FICTION / Animals / Dogs
JUVENILE FICTION / Social Issues / Friendship
More Great Biscuit I CAN READ! BOOKS
More Great My First I Can Read BOOKS