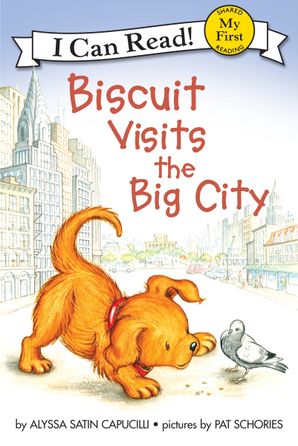 Read an excerpt
Biscuit Visits the Big City
By Alyssa Satin Capucilli, Illustrated by Pat Schories
Description
For fans of Clifford and Spot, welcome everybody's favorite little yellow puppy, Biscuit, in an I Can Read adventure!
The city is a big, busy place for a little yellow puppy. From gazing at the tops of tall buildings to chasing pigeons across crowded sidewalks, there's so much to do! There are more people than Biscuit's ever seen before, too -- and so many new friends to make!
Biscuit Visits the Big City, a My First I Can Read book, is carefully crafted using basic language, word repetition, sight words, and sweet illustrations—which means it's perfect for shared reading with emergent readers. 
Contributors
Alyssa Satin Capucilli
Alyssa Satin Capucilli is the author of the first story about Tulip and Rex, Tulip Loves Rex, as well as the bestselling Biscuit books and many other beloved children's books. She lives in a book-filled home in Hastings-on-Hudson, New York.
Illustrated by Pat Schories
Details
Publisher: HarperCollins
Imprint: HarperCollins
Format: Paperback
On Sale: 01/23/2007
ISBN: 9780060741662
ISBN10: 006074166X
Pages: 32
Trimsize: 9.000 x 6.000 in
Subcategory:
JUVENILE FICTION / Readers / Beginner
JUVENILE FICTION / Animals / Dogs
JUVENILE FICTION / Lifestyles / City & Town Life
More Great Biscuit I CAN READ! BOOKS
More Great My First I Can Read BOOKS