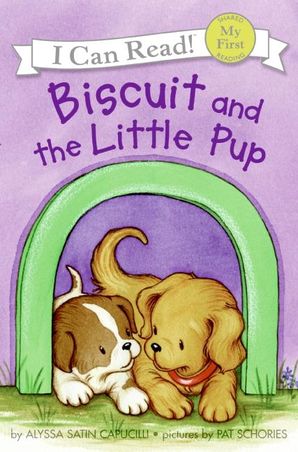 Read an excerpt
Biscuit and the Little Pup
By Alyssa Satin Capucilli, Illustrated by Pat Schories
Description
For fans of Clifford and Spot, welcome everybody's favorite little yellow puppy, Biscuit, in an I Can Read adventure!
Woof, woof! Arf, arf! There's a new pup in town.
When Biscuit finds a little pup in the park, he wants the pup to play with him. But the little pup won't come over to look at Biscuit's ball or to chew on a bone. In fact, he won't come out of his cozy hideaway at all! Is the little pup lost? How will Biscuit get the little pup to come out? Join Biscuit as he meets a new friend.
Biscuit and the Little Pup
, a My First I Can Read book, is carefully crafted using basic language, word repetition, sight words, and sweet illustrations—which means it's perfect for shared reading with emergent readers.
Contributors
Alyssa Satin Capucilli
Alyssa Satin Capucilli is the author of the first story about Tulip and Rex, Tulip Loves Rex, as well as the bestselling Biscuit books and many other beloved children's books. She lives in a book-filled home in Hastings-on-Hudson, New York.
Illustrated by Pat Schories
Details
Publisher: HarperCollins
Imprint: HarperCollins
Format: Paperback
On Sale: 12/26/2007
ISBN: 9780060741723
ISBN10: 0060741724
Pages: 32
Trimsize: 9.000 x 6.000 in
Subcategory:
JUVENILE FICTION / Readers / Beginner
JUVENILE FICTION / Animals / Dogs
JUVENILE FICTION / Social Issues / Friendship
More Great Biscuit I CAN READ! BOOKS
More Great My First I Can Read BOOKS