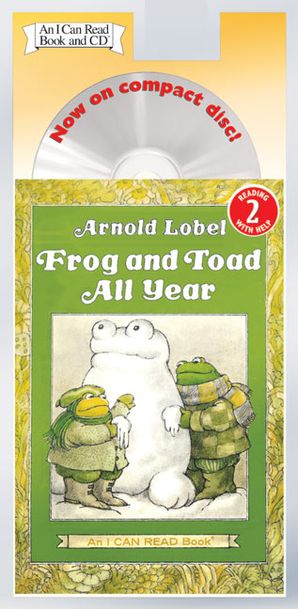 Frog and Toad All Year Book and CD
By Arnold Lobel, Illustrated by Arnold Lobel
Audiobook CD Abridged
$9.99
BUY NOW
Description
In Frog and Toad All Year, in winter, spring, summer, and fall, Frog and Toad are always together. From sledding in winter to eating ice cream on hot summer days, these two friends have fun the whole year round!

Frog and Toad All Year is a Level Two I Can Read book, geared for kids who read on their own but still need a little help. Whether shared at home or in a classroom, the engaging stories, longer sentences, and language play of Level Two books are proven to help kids take their next steps toward reading success.

The beloved classic Frog and Toad stories by Arnold Lobel have won numerous awards and honors, including a Newbery Honor, a Caldecott Honor, ALA Notable Children's Book, Fanfare Honor List (Horn Book), School Library Journal Best Children's Book, and Library of Congress Children's Book.
Read along with your favorite I Can Read Book characters!
I Can Read Books are the premier line of beginning readers encouraging children to learn—and love—to read. Featuring award-winning authors and illustrators, I Can Read Books offer a full spectrum of entertaining stories for every stage of a child's reading development.
Now the beloved characters and adventures from this popular line of books come to life with I Can Read Book and CDs. Each package includes a best-selling beginning-reader storybook and a lively audio recording featuring:
Word-for-word narration
Music and sound effects
One version with turn-the-page signals
One version of uninterrupted reading
Contributors
Arnold Lobel
Arnold Lobel (1933–1987) illustrated many wonderful children's books but is most beloved for his Frog and Toad stories, including the first one, Frog and Toad Are Friends, published in 1970. The books have garnered much acclaim, including a Caldecott Honor for Frog and Toad Are Friends and a Newbery Honor for Frog and Toad Together. These were followed by Frog and Toad All Year and Days with Frog and Toad.
Illustrated by Arnold Lobel
Details
Imprint: HarperFestival
Format: CD-Audio
On Sale: 05/24/2005
ISBN: 9780060786984
ISBN10: 0060786981
Pages: 64
Trimsize: 9.000 x 6.000 in
Subcategory:
JUVENILE FICTION / Animals / Frogs & Toads
JUVENILE FICTION / Social Issues / Friendship
JUVENILE FICTION / Readers / Beginner
More Great Frog and Toad I CAN READ! BOOKS
More Great I Can Read Level 2 BOOKS