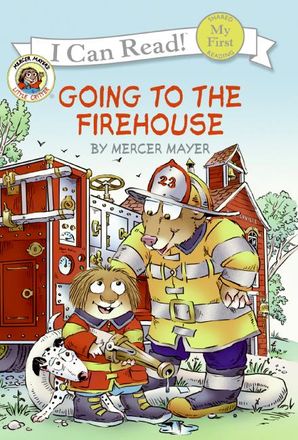 Read an excerpt
Little Critter: Going to the Firehouse
By Mercer Mayer, Illustrated by Mercer Mayer
Description
Whoosh! goes the water hose. Ooo! Eee! Ooo! goes the siren. Ding! Ding! goes the fire alarm.
Little Critter and his classmates are taking a trip to the firehouse! Little Critter puts on his boots and jacket—now he's ready to help Fireman Joe. After checking the hose and ladder, Little Critter is ready for a fireman's helmet of his own. Join Little Critter as he learns to stop, drop, and roll with Fireman Joe!
This sweet, simple story is perfect for emergent readers ready to climb their own ladder.
Contributors
Mercer Mayer
Mercer Mayer is the creator of the enduringly popular Little Critter books. Drawing from his own childhood adventures for inspiration, Mayer has created a beloved and classic character in Little Critter. You can visit him at www.littlecritter.com.
Illustrated by Mercer Mayer
Details
Imprint: HarperCollins
Format: Hardcover
On Sale: 06/24/2008
ISBN: 9780060835460
ISBN10: 006083546X
Pages: 32
Trimsize: 9.000 x 6.000 in
Subcategory:
JUVENILE FICTION / Classics
JUVENILE FICTION / Animals / General
JUVENILE FICTION / Readers / Beginner
More Great Little Critter I CAN READ! BOOKS
More Great My First I Can Read BOOKS