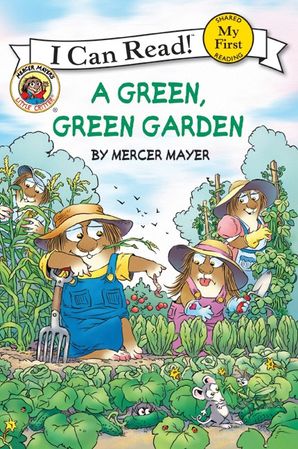 Read an excerpt
Little Critter: A Green, Green Garden
By Mercer Mayer, Illustrated by Mercer Mayer
Other Formats
Description
Join Mercer Mayer's classic and beloved character, Little Critter® as he goes green in this My First I Can Read book!
Little Critter learns that planting his own garden is a lot of fun and a lot of work. But the result—a green, green garden—is something he can cherish and enjoy.
Little Critter: A Green, Green Garden is a My First I Can Read book, which means it's perfect for shared reading with a child.
Contributors
Mercer Mayer
Mercer Mayer is the creator of the enduringly popular Little Critter books. Drawing from his own childhood adventures for inspiration, Mayer has created a beloved and classic character in Little Critter. You can visit him at www.littlecritter.com.
Illustrated by Mercer Mayer
Details
Imprint: HarperCollins
Format: Paperback
On Sale: 03/01/2011
ISBN: 9780060835613
ISBN10: 0060835613
Pages: 32
Trimsize: 9.000 x 6.000 in
Subcategory:
JUVENILE FICTION / Classics
JUVENILE FICTION / Animals / General
JUVENILE FICTION / Readers / Beginner
More Great Little Critter I CAN READ! BOOKS
More Great My First I Can Read BOOKS