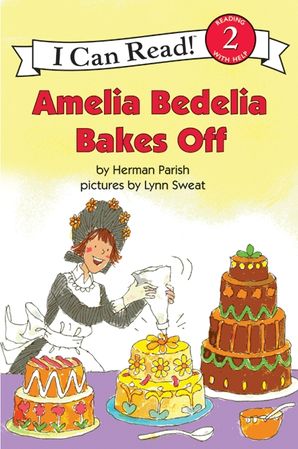 Read an excerpt
Amelia Bedelia Bakes Off
By Herman Parish, Illustrated by Lynn Sweat
Description
Amelia Bedelia is famous for her baking, but she has her own way of doing things. Lending a hand at the bakery and entering a cake-making contest could be a recipe for disaster!
But with a pinch of sweet, a dab of silly, and a heaping helping of fun, Amelia Bedelia creates a cake like no other.
Open this book and get ready for a treat!
Contributors
Herman Parish
Herman Parish was in the fourth grade when his aunt, Peggy Parish, wrote the first book about Amelia Bedelia. The author lives in Princeton, New Jersey.
Illustrated by Lynn Sweat
Details
Imprint: Greenwillow Books
Format: Paperback
On Sale: 12/28/2010
ISBN: 9780060843601
ISBN10: 0060843608
Pages: 64
Trimsize: 9.000 x 6.000 in
Subcategory:
JUVENILE FICTION / Readers / Beginner
JUVENILE FICTION / Concepts / Words
JUVENILE FICTION / Humorous Stories
More Great Amelia Bedelia I CAN READ! BOOKS
More Great I Can Read Level 2 BOOKS