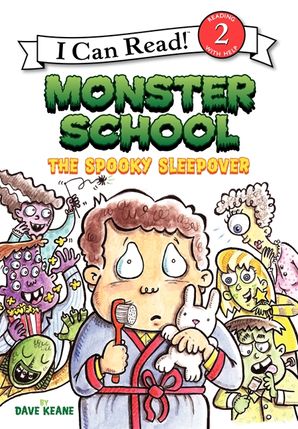 Read an excerpt
Monster School: The Spooky Sleepover
By Dave Keane, Illustrated by Dave Keane
Description
Norm is just plain normal until he finds himself in a new school where all his classmates are monsters! When his school hosts a sleepover, Norm is nervous that he'll be too scared to fall asleep. But it's not the monsters that he's scared of—it's sleeping away from home!
Join Norm in this wacky, easy-to-read I Can Read story about learning to fit in. Reluctant readers, boy readers, girl readers, monster readers—any beginning readers—will enjoy the wonderfully silly story and the fun illustrations.
This is a level two I Can Read! book geared for kids who read on their own but still need a little help.
Contributors
Dave Keane
Dave Keane always loved monsters as a kid. Halloween was his favorite holiday and he dreamed of becoming a werewolf or a vampire when he grew up. Instead, he became a children's book writer and illustrator. Now he and his wife stay busy raising three little monsters of their own in Northern California.
Illustrated by Dave Keane
Details
Imprint: HarperCollins
Format: Hardcover
On Sale: 06/24/2014
ISBN: 9780060854782
ISBN10: 0060854782
Pages: 32
Trimsize: 9.000 x 6.000 in
Subcategory:
JUVENILE FICTION / Readers / Beginner
JUVENILE FICTION / Bedtime & Dreams
JUVENILE FICTION / Holidays & Celebrations / Halloween
More Great I Can Read Level 2 BOOKS