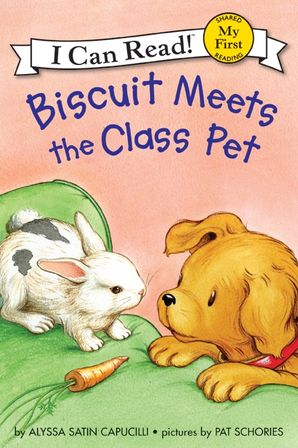 Read an excerpt
Biscuit Meets the Class Pet
By Alyssa Satin Capucilli, Illustrated by Pat Schories
Description
Hop, hop!
There's someone new at Biscuit's house—Nibbles, the class pet, has come for a visit. Nibbles likes exploring Biscuit's home and wants to play with all of Biscuit's toys. Biscuit isn't sure if he is ready to share with Nibbles, but soon Biscuit realizes that he likes having a visitor after all!
The youngest of readers will be delighted by the story of Biscuit's new friendship in this appealing, easy-to-read adventure.
Contributors
Alyssa Satin Capucilli
Alyssa Satin Capucilli is the author of the first story about Tulip and Rex, Tulip Loves Rex, as well as the bestselling Biscuit books and many other beloved children's books. She lives in a book-filled home in Hastings-on-Hudson, New York.
Illustrated by Pat Schories
Details
Imprint: HarperCollins
Format: Hardcover
On Sale: 12/22/2009
ISBN: 9780061177477
ISBN10: 0061177474
Pages: 32
Trimsize: 9.000 x 6.000 in
Subcategory:
JUVENILE FICTION / Readers / Beginner
JUVENILE FICTION / Animals / Dogs
JUVENILE FICTION / Animals / Rabbits
More Great Biscuit I CAN READ! BOOKS
More Great My First I Can Read BOOKS