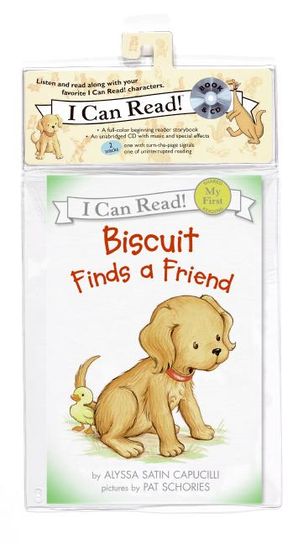 Biscuit Finds a Friend Book and CD
By Alyssa Satin Capucilli, Illustrated by Pat Schories
Audiobook CD Abridged
$9.99
BUY NOW
Description
Biscuit is back—and he's got a new friend. In his second adventure, the lovable yellow puppy meets an adorable lost duckling. Biscuit helps the duckling back to its pond, and their fun begins. Simple text and charming illustrations make this timeless story of first friendship perfect for youngsters just starting to read.
Contributors
Alyssa Satin Capucilli
Alyssa Satin Capucilli is the author of the first story about Tulip and Rex, Tulip Loves Rex, as well as the bestselling Biscuit books and many other beloved children's books. She lives in a book-filled home in Hastings-on-Hudson, New York.
Illustrated by Pat Schories
Details
Imprint: HarperFestival
Format: CD-Audio
On Sale: 06/12/2007
ISBN: 9780061247729
ISBN10: 0061247723
Pages: 32
Trimsize: 9.000 x 6.000 in
Subcategory:
JUVENILE FICTION / Animals / Dogs
JUVENILE FICTION / Social Issues / Friendship
JUVENILE FICTION / Readers / Beginner
More Great Biscuit I CAN READ! BOOKS
More Great My First I Can Read BOOKS