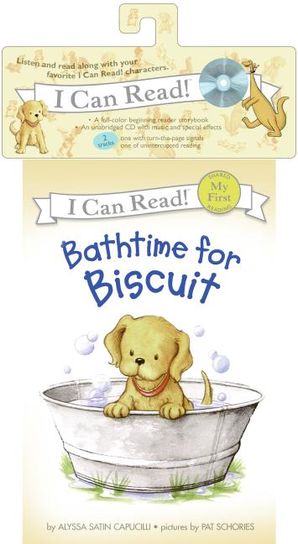 Bathtime for Biscuit Book and CD
By Alyssa Satin Capucilli, Illustrated by Pat Schories
Audiobook CD Abridged
$9.99
BUY NOW
Description
Read along with your favorite I Can Read Book characters!
I Can Read Books are the premier line of beginning readers encouraging children to learn—and love—to read. Featuring award-winning authors and illustrators, I Can Read Books offer a full spectrum of entertaining stories for every stage of a child's reading development.
Now the beloved characters and adventures from this popular line of books come to life with I Can Read Book and CDs. Each package includes a best-selling beginning-reader storybook and a lively audio recording featuring:
Word-for-word narration
Music and sound effects
One version with turn-the-page signals
One version of uninterrupted reading
In Bathtime for Biscuit, Biscuit is a playful puppy. At bathtime, that means splashing and running and everyone getting wet!
Contributors
Alyssa Satin Capucilli
Alyssa Satin Capucilli is the author of the first story about Tulip and Rex, Tulip Loves Rex, as well as the bestselling Biscuit books and many other beloved children's books. She lives in a book-filled home in Hastings-on-Hudson, New York.
Illustrated by Pat Schories
Details
Imprint: HarperCollins
Format: CD-Audio
On Sale: 09/04/2007
ISBN: 9780061335389
ISBN10: 006133538X
Pages: 32
Trimsize: 9.000 x 6.000 in
Subcategory:
JUVENILE FICTION / Readers / Beginner
JUVENILE FICTION / Animals / Dogs
JUVENILE FICTION / Health & Daily Living / Daily Activities
More Great My First I Can Read BOOKS