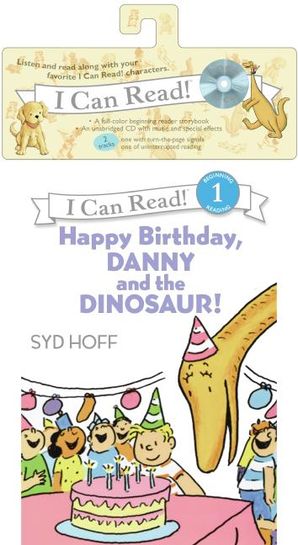 Happy Birthday, Danny and the Dinosaur! Book and CD
By Syd Hoff, Illustrated by Syd Hoff
Audiobook CD Abridged
$9.99
BUY NOW
Description
What would happen if a dinosaur came to a birthday party? Come to Danny's house and find out in Happy Birthday, Danny and the Dinosaur! Danny's friend the dinosaur helps make this one party you'll never forget!
Happy Birthday, Danny and the Dinosaur! is a Level One I Can Read book that is perfect for children learning to sound out words and sentences.
I Can Read Books are the premier line of beginning readers encouraging children to learn—and love—to read. Featuring award-winning authors and illustrators, I Can Read Books offer a full spectrum of entertaining stories for every stage of a child's reading development.
Now the beloved characters and adventures from this popular line of books come to life with I Can Read Book and CDs. Each package includes a best-selling beginning-reader storybook and a lively audio recording featuring:
Word-for-word narration
Music and sound effects
One version with turn-the-page signals
One version of uninterrupted reading
Contributors
Syd Hoff
Syd Hoff has given much pleasure to children everywhere as the author and illustrator of numerous children's books, including the favorite I Can Read books Sammy the Seal, The Horse in Harry's Room, and the Danny and the Dinosaur books. Born and raised in New York City, he studied at the National Academy of Design. His cartoons were a regular feature in the New Yorker after he sold his first cartoon to that magazine at the age of eighteen. His work also appeared in many other magazines, including Esquire and the Saturday Evening Post, and in a nationally syndicated daily feature.
Illustrated by Syd Hoff
Details
Imprint: HarperFestival
Format: CD-Audio
On Sale: 10/09/2007
ISBN: 9780061335396
ISBN10: 0061335398
Pages: 32
Trimsize: 9.000 x 6.000 in
Subcategory:
JUVENILE FICTION / Readers / Beginner
JUVENILE FICTION / Animals / Dinosaurs & Prehistoric Creatures
JUVENILE FICTION / Holidays & Celebrations / Birthdays
More Great Danny and the Dinosaur I CAN READ! BOOKS
More Great I Can Read Level 1 BOOKS