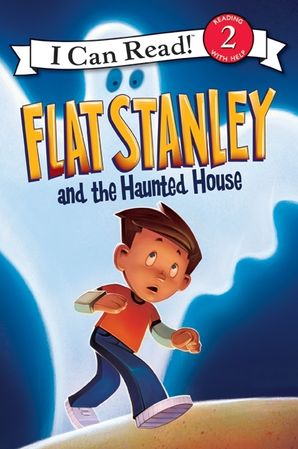 Read an excerpt
Flat Stanley and the Haunted House
By Jeff Brown, Illustrated by Macky Pamintuan
Description
Stanley can't wait for the Halloween party at school. But when a bully picks on his friend, Stanley saves the day in no time flat in this Flat Stanley I Can Read adventure!
The Lambchops are ready to be spooked at a Halloween party! Arthur is excited for the haunted house, and Stanley wants to show off his limbo moves. But when they see a bully picking on their friend at the party, the boys know that they have to help. Soon Stanley comes up with a plan that is flat-out hilarious!
Flat Stanley and the Haunted House is a Level Two I Can Read book, geared for kids who read on their own but still need a little help. Whether shared at home or in a classroom, the engaging stories, longer sentences, and language play of Level Two books are proven to help kids take their next steps toward reading success.
Contributors
Jeff Brown
Jeff Brown created the beloved character of Flat Stanley as a bedtime story for his sons. He has written other outrageous books about the Lambchop family, including Flat Stanley, Stanley and the Magic Lamp, Invisible Stanley, Stanley's Christmas Adventure, Stanley in Space, and Stanley, Flat Again! You can learn more about Jeff Brown and Flat Stanley at www.flatstanleybooks.com.
Illustrated by Macky Pamintuan
Details
Imprint: HarperCollins
Format: Paperback
On Sale: 07/27/2010
ISBN: 9780061430053
ISBN10: 0061430056
Pages: 32
Trimsize: 9.000 x 6.000 in
Subcategory:
JUVENILE FICTION / Readers / Beginner
JUVENILE FICTION / Holidays & Celebrations / Halloween
JUVENILE FICTION / Humorous Stories
More Great Flat Stanley I CAN READ! BOOKS
More Great I Can Read Level 2 BOOKS