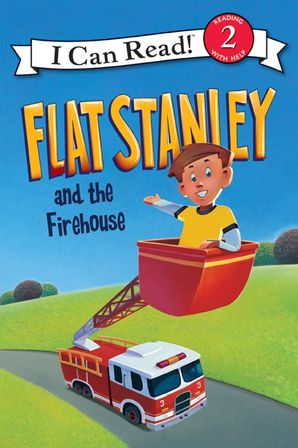 Read an excerpt
Flat Stanley and the Firehouse
By Jeff Brown, Illustrated by Macky Pamintuan
Description
Stanley's Stop, Drop, and Roll poster wins him a trip to the firehouse, but the visit takes an unexpected turn in this Flat Stanley I Can Read adventure!
Stanley is elated. His Stop, Drop, and Roll poster won the Fire Safety Month contest. Stanley's prize is a trip to the firehouse! When Chief Abbot invites him to climb onto a real fire truck, Stanley thinks things can't get any better, but the visit takes an even more exciting turn.
Beginning readers will love following along with Stanley's exciting rescue mission. Sometimes flatter is better!
Flat Stanley and the Firehouse is a Level Two I Can Read book, geared for kids who read on their own but still need a little help.
Contributors
Jeff Brown
Jeff Brown created the beloved character of Flat Stanley as a bedtime story for his sons. He has written other outrageous books about the Lambchop family, including Flat Stanley, Stanley and the Magic Lamp, Invisible Stanley, Stanley's Christmas Adventure, Stanley in Space, and Stanley, Flat Again! You can learn more about Jeff Brown and Flat Stanley at www.flatstanleybooks.com.
Illustrated by Macky Pamintuan
Details
Publisher: HarperCollins
Imprint: HarperCollins
Format: Paperback
On Sale: 07/26/2011
ISBN: 9780061430091
ISBN10: 0061430099
Pages: 32
Trimsize: 9.000 x 6.000 in
Subcategory:
JUVENILE FICTION / Readers / Beginner
JUVENILE FICTION / Family / General
JUVENILE FICTION / Humorous Stories
More Great Flat Stanley I CAN READ! BOOKS
More Great I Can Read Level 2 BOOKS