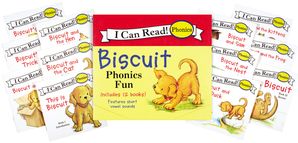 Biscuit Phonics Fun
By Alyssa Satin Capucilli, Illustrated by Pat Schories
Description
Phonics is fun with Biscuit! An introduction to phonics from everyone's favorite little yellow puppy.
Biscuit makes reading fun! This 12-book box set, each book focusing on a specific phonics sound, is a fun teaching tool for early readers. Based on the latest research about how children learn to read, these twelve full-color books feature repeated examples of short vowel sounds and common sight words. The simple stories about everyone's favorite little yellow puppy will make the process of learning to read fun.
Contributors
Alyssa Satin Capucilli
Alyssa Satin Capucilli is the author of the first story about Tulip and Rex, Tulip Loves Rex, as well as the bestselling Biscuit books and many other beloved children's books. She lives in a book-filled home in Hastings-on-Hudson, New York.
Illustrated by Pat Schories
Details
Imprint: HarperCollins
Format: Paperback
On Sale: 06/24/2008
ISBN: 9780061432040
ISBN10: 0061432040
Trimsize: 5.250 x 6.750 in
Subcategory:
JUVENILE FICTION / Readers / Beginner
JUVENILE FICTION / Animals / Dogs
JUVENILE FICTION / Concepts / Words
More Great Biscuit I CAN READ! BOOKS
More Great My First I Can Read BOOKS