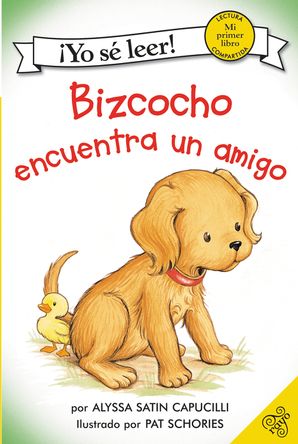 Read an excerpt
Bizcocho encuentra un amigo
By Alyssa Satin Capucilli, Illustrated by Pat Schories
Description
This high-quality Spanish-language book can be enjoyed by fluent Spanish speakers as well as those learning the language, whether at home or in a classroom.
Cuando encuentra un patito perdido, Bizcocho lo ayuda a volver a su casa. ¡Entonces comienza la diversión! ¡Guau! ¡Cuac!
Contributors
Alyssa Satin Capucilli
Alyssa Satin Capucilli is the author of the first story about Tulip and Rex, Tulip Loves Rex, as well as the bestselling Biscuit books and many other beloved children's books. She lives in a book-filled home in Hastings-on-Hudson, New York.
Illustrated by Pat Schories
Details
Imprint: HarperCollins Espanol
Format: Paperback
On Sale: 05/20/2008
ISBN: 9780061435263
ISBN10: 0061435260
Pages: 32
Trimsize: 9.000 x 6.000 in
Subcategory:
JUVENILE FICTION / Readers / Beginner
JUVENILE FICTION / Animals / Dogs
JUVENILE FICTION / People & Places / United States / Hispanic & Latino
More Great Biscuit I CAN READ! BOOKS
More Great My First I Can Read BOOKS