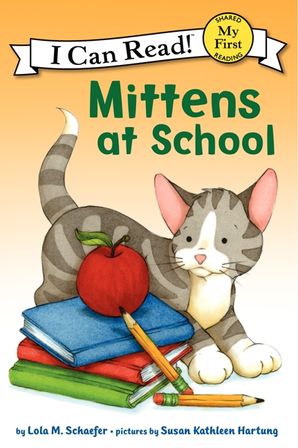 Read an excerpt
Mittens at School
By Lola M. Schaefer, Illustrated by Susan Kathleen Hartung
Description
Mittens the sweet little kitten makes trouble when Nick brings him to school for show-and-tell. Just right for little ones getting ready to go to school for the first time or for a new school year!
At the math table, Mittens pushes the counting beads until they crash to the floor. On the piano, Mittens runs across the keys until the piano lid slams down. Mittens even tries to look at a book, until it falls from the bookshelf! Mittens is finally happy when he gets to meet the other students in Nick's class.
This My First I Can Read Book is perfect for shared reading with toddlers and very young children. Basic language, word repetition, and whimsical illustrations make this book just right for the emergent reader.
Contributors
Lola M. Schaefer
Lola M. Schaefer is the author of several books for children, including An Island Grows; Pick, Pull, Snap! Where Once a Flower Bloomed, an NCTE Notable Children's Book in the Language Arts; and What's Up, What's Down? She lives with her husband, Ted, in the mountains of north Georgia, where she occasionally observes the back end of a black bear, coyote, or gray fox.
Illustrated by Susan Kathleen Hartung
Details
Imprint: HarperCollins
Format: Hardcover
On Sale: 06/26/2012
ISBN: 9780061702242
ISBN10: 0061702242
Pages: 32
Trimsize: 9.000 x 6.000 in
Subcategory:
JUVENILE FICTION / Readers / Beginner
JUVENILE FICTION / Animals / Cats
JUVENILE FICTION / School & Education
More Great My First I Can Read BOOKS