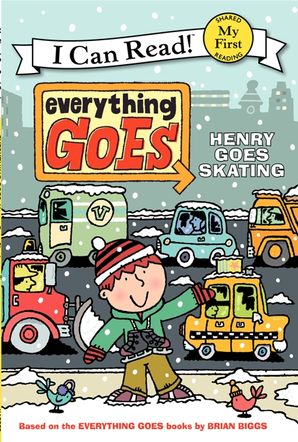 Read an excerpt
Everything Goes: Henry Goes Skating
By Brian Biggs, Illustrated by Brian Biggs,Simon Abbott
Other Formats
Description
When Henry wakes up, the ground is covered with snow! That means it's a perfect day for building a snowman and going ice-skating. On the way to the ice-skating rink, Henry sees lots of winter activity: special trucks for plowing snow and special trucks that help vehicles stuck in the snow!
Henry Goes Skating uses simple, easy-to-read text and bold illustrations to bring stories to life for beginning readers. This is the second title in the Everything Goes I Can Read series, filled with vehicles that know how to move even when there's snow on the road.
Contributors
Brian Biggs
Everything Goes is a series of books written and illustrated by Brian Biggs. The first books in the series, Everything Goes: On Land and Everything Goes: In the Air, are a celebration of cars, trucks, motorcycles, planes, and other things that go!
Illustrated by Brian Biggs
Illustrated by Simon Abbott
Details
Imprint: HarperCollins
Format: Hardcover
On Sale: 08/21/2012
ISBN: 9780061958212
ISBN10: 0061958212
Pages: 32
Trimsize: 9.000 x 6.000 in
Subcategory:
JUVENILE FICTION / Readers / Beginner
JUVENILE FICTION / Transportation / Aviation
JUVENILE FICTION / Transportation / Cars & Trucks
More Great My First I Can Read BOOKS