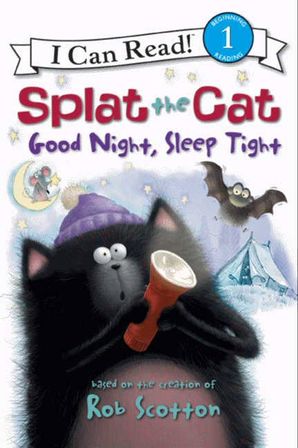 Read an excerpt
Splat the Cat: Good Night, Sleep Tight
By Rob Scotton, Illustrated by Rob Scotton
Other Formats
Description
Join Splat the Cat in this funny story about an unlikely camp friendship from New York Times bestselling author and artist Rob Scotton.
Splat is really excited about going camping—until his mom tells him she has invited his rival, Spike.
Will Spike ruin Splat's trip? Or maybe Splat will learn that his worst enemy isn't so different from him after all…
Splat the Cat: Blow, Snow, Blow is a Level One I Can Read book, which means it's perfect for children learning to sound out words and sentences. Whether shared at home or in a classroom, the short sentences, familiar words, and simple concepts of Level One books support success for children eager to start reading on their own. Beginning readers will love this hilarious addition to the Splat series that features the long -i sound.
Contributors
Rob Scotton
Rob Scotton is the bestselling author and illustrator of Russell the Sheep; Russell and the Lost Treasure; Russell's Christmas Magic; Splat the Cat; Love, Splat; Merry Christmas, Splat; and Scaredy-Cat, Splat! His work can also be found on greeting cards, ceramics, textiles, prints, stationery, and glassware. An honors graduate of Leicester Polytechnic, Rob now lives in Rutland, England, with his wife, Liz, who is also an artist. You can visit Rob Scotton online at www.robscotton.com.
Illustrated by Rob Scotton
Details
Publisher: HarperCollins
Imprint: HarperCollins
Format: Paperback
On Sale: 06/14/2011
ISBN: 9780061978555
ISBN10: 0061978558
Pages: 32
Trimsize: 9.000 x 6.000 in
Subcategory:
JUVENILE FICTION / Readers / Beginner
JUVENILE FICTION / Sports & Recreation / Camping & Outdoor Activities
JUVENILE FICTION / Social Issues / Friendship
More Great Splat the Cat I CAN READ! BOOKS
More Great I Can Read Level 1 BOOKS