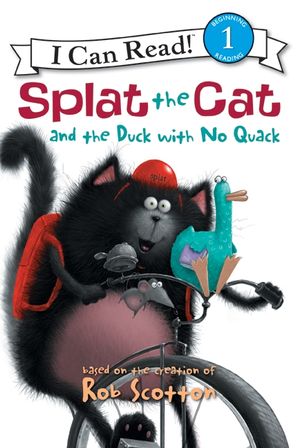 Read an excerpt
Splat the Cat and the Duck with No Quack
By Rob Scotton, Illustrated by Rob Scotton
Description
Clickity clack, clickity clack . . . Splat's bicycle bumps and jumps over the bumpy track on his way to school, until . . . crack! Splat takes a tumble off of his bike and finds himself nose to beak with a duck. A crash of this caliber should certainly merit some alarm from this duck, but Splat hears no sound. A duck with no quack? Splat thinks that his teacher, Mrs. Wimpydimple, will know what to do, so Splat packs the duck in his backpack along with his school supplies and heads off to Cat School.
Join Splat in this hilarious story that is sure to quack up beginning readers.
Contributors
Rob Scotton
Rob Scotton is the bestselling author and illustrator of Russell the Sheep; Russell and the Lost Treasure; Russell's Christmas Magic; Splat the Cat; Love, Splat; Merry Christmas, Splat; and Scaredy-Cat, Splat! His work can also be found on greeting cards, ceramics, textiles, prints, stationery, and glassware. An honors graduate of Leicester Polytechnic, Rob now lives in Rutland, England, with his wife, Liz, who is also an artist. You can visit Rob Scotton online at www.robscotton.com.
Illustrated by Rob Scotton
Details
Imprint: HarperCollins
Format: Hardcover
On Sale: 08/30/2011
ISBN: 9780061978586
ISBN10: 0061978582
Pages: 32
Trimsize: 9.000 x 6.000 in
Subcategory:
JUVENILE FICTION / Readers / Beginner
JUVENILE FICTION / Humorous Stories
JUVENILE FICTION / School & Education
More Great Splat the Cat I CAN READ! BOOKS
More Great I Can Read Level 1 BOOKS