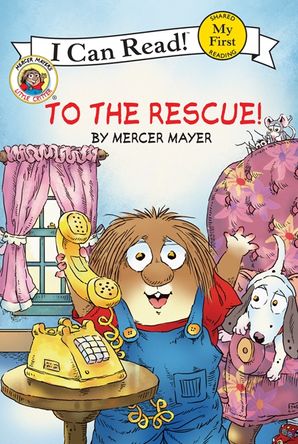 Read an excerpt
Little Critter: To the Rescue!
By Mercer Mayer, Illustrated by Mercer Mayer
Other Formats
Description
Uh-oh, Dad needs help!
When Dad is locked in the basement, Little Critter knows just what to do. He picks up the phone to dial three numbers. The firemen arrive in just a few minutes to rescue Dad . . . but they can't stay long to share in the excitement. They have another job to do. Join Little Critter as he shares his 9-1-1 smarts!
Contributors
Mercer Mayer
Mercer Mayer is the creator of the enduringly popular Little Critter books. Drawing from his own childhood adventures for inspiration, Mayer has created a beloved and classic character in Little Critter. You can visit him at www.littlecritter.com.
Illustrated by Mercer Mayer
Details
Publisher: HarperCollins
Imprint: HarperCollins
Format: eBook
On Sale: 11/20/2012
ISBN: 9780062037213
ISBN10: 0062037218
Pages: 32
Trimsize: 0.000 x 0.000 in
Subcategory:
JUVENILE FICTION / Animals / General
JUVENILE FICTION / Classics
JUVENILE FICTION / Readers / Beginner
More Great My First I Can Read BOOKS