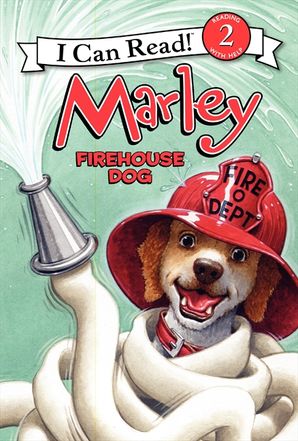 Read an excerpt
Marley: Firehouse Dog
By John Grogan, Illustrated by Richard Cowdrey,Lydia Halverson
Description
Marley is back in an I Can Read adventure! When Marley and his family are out for a walk around town, they are pleased to be invited into the fire station for a tour!
Unhappily, Marley has to stay behind . . . or at least, that's what his family says. Before long, Marley has chewed through his leash and is leading his own tour of the firehouse. From the kitchen to the garage, Marley is hot on the trail for some mischief! Young readers will relish this sizzling story!
Contributors
John Grogan
John Grogan is an award-winning newspaper columnist and a former editor in chief of Organic Gardening magazine. His first book, Marley & Me: Life and Love with the World's Worst Dog, is a number one international bestseller with three million copies in print and rights sold in more than two dozen languages. He lives with his wife, three children and their new dog, Gracie, in the Pennsylvania countryside.
Illustrated by Richard Cowdrey
Illustrated by Lydia Halverson
Details
Imprint: HarperCollins
Format: Hardcover
On Sale: 08/21/2012
ISBN: 9780062074843
ISBN10: 0062074849
Pages: 32
Trimsize: 9.000 x 6.000 in
Subcategory:
JUVENILE FICTION / Readers / Beginner
JUVENILE FICTION / Animals / Dogs
JUVENILE FICTION / Humorous Stories
More Great I Can Read Level 2 BOOKS