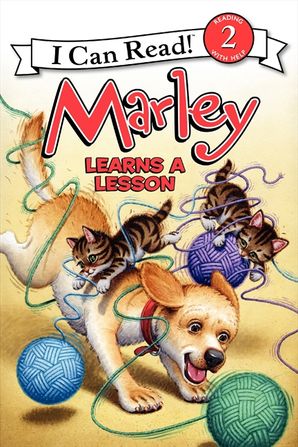 Read an excerpt
Marley: Marley Learns a Lesson
By John Grogan, Illustrated by Richard Cowdrey
Description
Marley has two new friends in the house—the new kittens, Lucky and Yow-Yow! As the king of the castle, Marley enjoys showing the kittens a few life lessons. Marley shows the kittens where to wait for Cassie to come home from school and where not to sniff, like Baby Louie's diaper! The kittens show Marley a few things, too, like how to pounce and how to scratch. But when Marley is scared by a thunderstorm, he may find that he doesn't know everything just yet. Will the kittens have one more important lesson to show their pal Marley?
Contributors
John Grogan
John Grogan is the author of the #1 international bestseller Marley & Me: Life and Love with the World's Worst Dog, the bestselling middle-grade memoir Marley: A Dog Like No Other, and three #1 best-selling picture books: Bad Dog, Marley!, A Very Marley Christmas, and Marley Goes to School. John lives with his wife and their three children in the Pennsylvania countryside.
John Grogan ha sido un premiado reportero gráfico y columnista por más de veinticinco años. Vive en Pensilvania con su esposa Jenny y sus tres hijos.
Illustrated by Richard Cowdrey
Details
Imprint: HarperCollins
Format: Hardcover
On Sale: 04/16/2013
ISBN: 9780062074874
ISBN10: 0062074873
Pages: 32
Trimsize: 9.000 x 6.000 in
Subcategory:
JUVENILE FICTION / Readers / Beginner
JUVENILE FICTION / Animals / Cats
JUVENILE FICTION / Animals / Dogs
More Great I Can Read Level 2 BOOKS