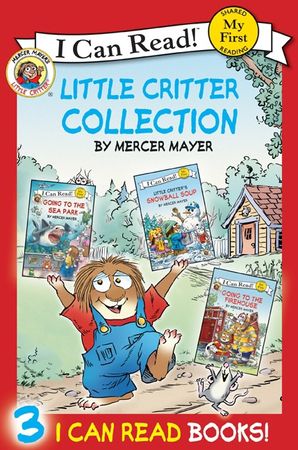 Little Critter Collection
By Mercer Mayer, Illustrated by Mercer Mayer
Description
Enjoy three favorite adventures in this fun-filled set!
Little Critter® has captured the hearts of readers for decades. Now you can have three books at once in this exciting set of stories featuring Going to the Firehouse, Going to the Sea Park, and Snowball Soup!
Contributors
Mercer Mayer
Mercer Mayer is the creator of the enduringly popular Little Critter books. Drawing from his own childhood adventures for inspiration, Mayer has created a beloved and classic character in Little Critter. You can visit him at www.littlecritter.com.
Illustrated by Mercer Mayer
Details
Imprint: HarperCollins
Format: Paperback
On Sale: 01/31/2012
ISBN: 9780062075673
ISBN10: 0062075675
Pages: 96
Trimsize: 9.000 x 6.000 in
Subcategory:
JUVENILE FICTION / Readers / Beginner
JUVENILE FICTION / Animals / General
JUVENILE FICTION / Classics
More Great Little Critter I CAN READ! BOOKS
More Great My First I Can Read BOOKS