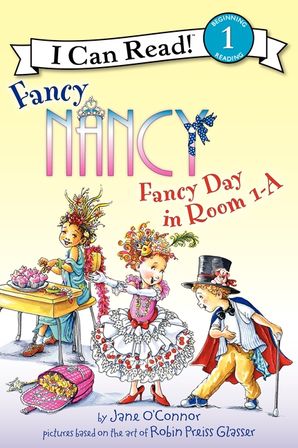 Read an excerpt
Fancy Nancy: Fancy Day in Room 1-A
By Jane O'Connor, Illustrated by Robin Preiss Glasser
Description
After a gloomy, gray week stuck inside at school, Nancy comes up with a great idea to cheer up her friends. Ms. Glass's classroom will celebrate a new holiday—Fancy Day! Everyone gets into the swing of things, practicing their manners and preparing for the party. But on the day of the celebration, Ms. Glass runs in late . . . looking quite plain. Can Nancy and her classmates doll up Ms. Glass and keep the party as elegant as expected?
In the tradition of all Fancy Nancy I Can Reads, Fancy Nancy: Fancy Day in Room 1-A will entertain beginning readers—even on a rainy, gloomy day!
Contributors
Jane O'Connor
Jane O'Connor is an editor at a major publishing house who has written more than seventy books for children, including the New York Times bestselling Fancy Nancy series. She resides (that's fancy for lives) with her family in New York City.
Illustrated by Robin Preiss Glasser
Details
Imprint: HarperCollins
Format: Hardcover
On Sale: 05/01/2012
ISBN: 9780062083050
ISBN10: 0062083058
Pages: 32
Trimsize: 9.000 x 6.000 in
Subcategory:
JUVENILE FICTION / Readers / Beginner
JUVENILE FICTION / Girls & Women
JUVENILE FICTION / Humorous Stories
More Great Fancy Nancy I CAN READ! BOOKS
More Great I Can Read Level 1 BOOKS