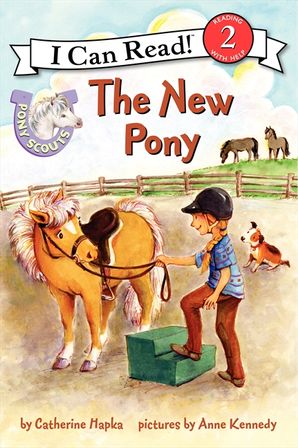 Read an excerpt
Pony Scouts: The New Pony
By Catherine Hapka, Illustrated by Anne Kennedy
Description
The Pony Scouts are becoming better at riding with every lesson. But just when they think they've seen it all, a new horse arrives on Jill's farm—one who hasn't been ridden before! Taffy is a beautiful palomino pony that needs Jill's help. With a little patience and a lot of love, Jill and the Pony Scouts will make Taffy a member of the family.
This is the seventh title in the Pony Scouts I Can Read series, making learning to read a galloping good time.
Contributors
Catherine Hapka
Catherine Hapka is the author of many books for children of all ages. She is too tall to ride ponies, though her mare, Gerri, still looks like one. Catherine takes riding lessons twice a week and lives on a farm with Gerri, three goats, a small flock of chickens, and too many cats.
Illustrated by Anne Kennedy
Details
Imprint: HarperCollins
Format: Hardcover
On Sale: 03/05/2013
ISBN: 9780062086747
ISBN10: 006208674X
Pages: 32
Trimsize: 9.000 x 6.000 in
Subcategory:
JUVENILE FICTION / Readers / Beginner
JUVENILE FICTION / Animals / Horses
JUVENILE FICTION / Social Issues / Friendship
More Great I Can Read Level 2 BOOKS