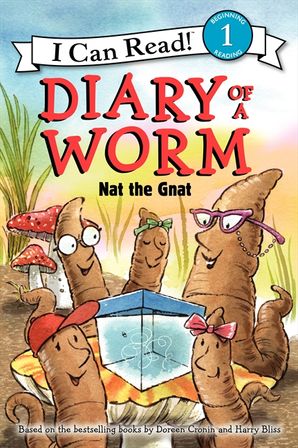 Read an excerpt
Diary of a Worm: Nat the Gnat
By Doreen Cronin, Illustrated by Harry Bliss
Description
Worm is thrilled when it's his turn to take care of the class pet, Nat the Gnat. But everything goes wrong when he leaves the lid of Nat's tank open. Can Worm make sure the class pet returns safe and sound before Mrs. Mulch finds out? This all-new, original I Can Read story captures the fun of the #1 New York Times bestselling Diary of a Worm picture book series by Doreen Cronin and Harry Bliss, and will leave beginning readers wiggling for more!
This Level 1 I Can Read book is perfect for children learning to sound out words and sentences.
Contributors
Doreen Cronin
Doreen Cronin is the New York Times bestselling author of Diary of a Worm, Diary of a Spider, and Diary of a Fly, as well as Click, Clack, Moo: Cows That Type, a Caldecott Honor Book, and Giggle, Giggle, Quack. She lives in Brooklyn, New York, with her husband and their daughters.
Illustrated by Harry Bliss
Details
Imprint: HarperCollins
Format: Hardcover
On Sale: 05/27/2014
ISBN: 9780062087089
ISBN10: 0062087088
Pages: 32
Trimsize: 9.000 x 6.000 in
Subcategory:
JUVENILE FICTION / Readers / Beginner
JUVENILE FICTION / Animals / Insects, Spiders, etc.
JUVENILE FICTION / Health & Daily Living / Diseases, Illnesses & Injuries
More Great I Can Read Level 1 BOOKS