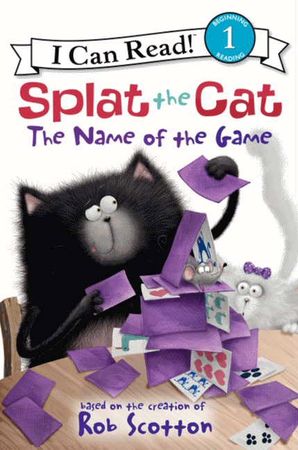 Read an excerpt
Splat the Cat: The Name of the Game
By Rob Scotton, Illustrated by Rob Scotton
Description
Splat the Cat's friends Spike and Plank are coming over to play games. Splat is excited to play with them . . . until everything starts to go wrong! First he trips and falls in Mouse, Mouse, Cat—and then he can't find a good hiding spot in hide-and-seek. Readers will delight as Splat finds a way to have fun in the end.
The Name of the Game is a perfect story for kids just learning to read, with bright, vivid illustrations and an easy-to-follow text full of Splat's signature humor!
Contributors
Rob Scotton
Rob Scotton is the bestselling author and illustrator of Russell the Sheep; Russell and the Lost Treasure; Russell's Christmas Magic; Splat the Cat; Love, Splat; Merry Christmas, Splat; and Scaredy-Cat, Splat! His work can also be found on greeting cards, ceramics, textiles, prints, stationery, and glassware. An honors graduate of Leicester Polytechnic, Rob now lives in Rutland, England, with his wife, Liz, who is also an artist. You can visit Rob Scotton online at www.robscotton.com.
Illustrated by Rob Scotton
Details
Imprint: HarperCollins
Format: Hardcover
On Sale: 06/19/2012
ISBN: 9780062090157
ISBN10: 0062090151
Pages: 32
Trimsize: 9.000 x 6.000 in
Subcategory:
JUVENILE FICTION / Readers / Beginner
JUVENILE FICTION / Humorous Stories
JUVENILE FICTION / School & Education
More Great Splat the Cat I CAN READ! BOOKS
More Great I Can Read Level 1 BOOKS