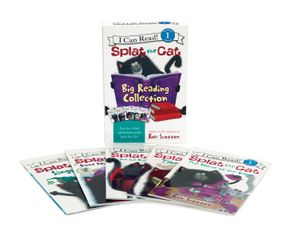 Splat the Cat: Big Reading Collection
By Rob Scotton, Illustrated by Rob Scotton
Description
Splat the Cat is back with five hilarious I Can Read adventures in a travel-ready carrying case with its own handle—that's better than fish sticks and ice cream!
This set includes:
Splat the Cat Sings Flat
Splat the Cat: Good Night, Sleep Tight
Splat the Cat and the Duck with No Quack
Splat the Cat Takes the Cake
Splat the Cat: The Name of the Game
Contributors
Rob Scotton
Rob Scotton is the bestselling author and illustrator of Russell the Sheep; Russell and the Lost Treasure; Russell's Christmas Magic; Splat the Cat; Love, Splat; Merry Christmas, Splat; and Scaredy-Cat, Splat! His work can also be found on greeting cards, ceramics, textiles, prints, stationery, and glassware. An honors graduate of Leicester Polytechnic, Rob now lives in Rutland, England, with his wife, Liz, who is also an artist. You can visit Rob Scotton online at www.robscotton.com.
Illustrated by Rob Scotton
Details
Imprint: HarperCollins
Format: Paperback
On Sale: 06/19/2012
ISBN: 9780062090294
ISBN10: 0062090291
Trimsize: 9.000 x 6.000 in
Subcategory:
JUVENILE FICTION / Animals / Cats
JUVENILE FICTION / Family / General
JUVENILE FICTION / Humorous Stories
More Great Splat the Cat I CAN READ! BOOKS
More Great I Can Read Level 1 BOOKS