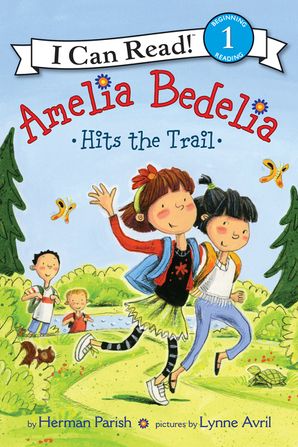 Read an excerpt
Amelia Bedelia Hits the Trail
By Herman Parish, Illustrated by Lynne Avril
Description
Amelia Bedelia and her entire class are going on a hike. Amelia Bedelia is excited. What will she find for the classroom nature table?
Amelia Bedelia spots squirrels, deer, birds, and insects along the trail. She has fun splashing with her friends in a stream, collecting leaves, and having a picnic. Best of all, her nature table find is a surprise in more ways than one! An easy-to-read book about friendship and exploring the natural world that is just right for beginning readers.
Contributors
Herman Parish
Herman Parish was in the fourth grade when his aunt, Peggy Parish, wrote the first book about Amelia Bedelia. The author lives in Princeton, New Jersey.
Illustrated by Lynne Avril
Details
Imprint: Greenwillow Books
Format: Hardcover
On Sale: 01/29/2013
ISBN: 9780062095275
ISBN10: 0062095277
Pages: 32
Trimsize: 9.000 x 6.000 in
Subcategory:
JUVENILE FICTION / Readers / Beginner
JUVENILE FICTION / Humorous Stories
JUVENILE FICTION / Social Issues / Friendship
More Great Amelia Bedelia I CAN READ! BOOKS
More Great I Can Read Level 1 BOOKS